HIGH SCHOOL STAR GUARD DIES IN PLAYOFF GAME
BY THE ASSOCIATED PRESS FEBRUARY 20, 2008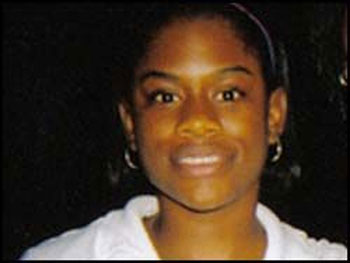 Shannon Veal stepped to the foul line late in the first half of a playoff game Monday night at Glen Oaks High School in Baton Rouge, La. She steadied herself and sank two free throws, then signaled that she needed a breather.
Before her coach could replace her, Veal, the star point guard for Glen Oaks, collapsed and died. She was 17.
"It's the kind of thing I'll always look back on, but it was just seconds," Glen Oaks Coach Harold Boudreaux said by telephone Tuesday. "She was guarding a player and just keeled over. You could hear her head hit the floor."
Paramedics arrived in minutes. They began CPR and used a defibrillator as the crowd of about 200 watched. Among those at the gym were a scout from Louisiana State and Veal's father, Gilbert, who was recording the game.
"Nothing can prepare you for this," Boudreaux said. "The only comfort is that she was doing what she loved. She wasn't interested in playing basketball; she was in love with playing basketball. She was a real basketball player."
Veal, a 5-foot-8 junior, had recently been named her district's most valuable player. She was averaging 14 points, 5.5 assists and 2 steals. Boudreaux said she had received letters from more than 75 colleges, including L.S.U., Seton Hall, Virginia Tech and Tulane.
"She was everything you want in a point guard," Boudreaux said. "She could read the court and control the game. But she was also everything you want in a young lady. She was an M.V.P. at life."
The cause of death was not known Tuesday. Veal was diabetic, but according to Dr. Kim Edward LeBlanc, chairman of the department of family medicine at the L.S.U. Health Sciences Center and a specialist in sports medicine, diabetes should not have prevented her from playing.
"Generally, if you have well-controlled diabetes, there should be no problems, especially at that age," LeBlanc said. "In fact, we encourage diabetics to exercise."
All high school athletes must have a complete physical once a year, said Kenny Henderson, commissioner of the Louisiana High School Athletic Association.
A 1995 study of sudden death in young athletes found the ratio of males to females was about 10 to 1. LeBlanc said that ratio was imbalanced because so many more males played high school athletics, but that it would even out as more girls took up sports.
He said that the most common cause of sudden, unexpected death among young athletes was hypertrophic cardiomyopathy, a condition that makes it difficult for blood to leave the heart. It is also a condition that is difficult to recognize. "It is rare enough that there is no recommendation to screen for it," he said.
The game between Glen Oaks and Helen Cox High was stopped with 1 minute 34 seconds left in the first half, with Glen Oaks leading, 31-17. Veal had scored 11 points.
The game was to be finished Tuesday night.
Boudreaux said he knew how difficult it would be for his players, noting, "But I told them: Let the cries out, let the tears out, then regain yourself and finish what she started."