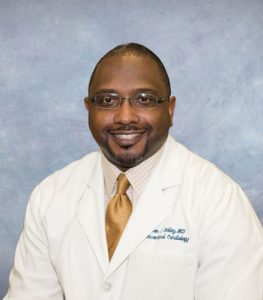 Dr. Steven E. Kelley is a native of Cotton Plant, Arkansas. Dr. Kelley served in the Arkansas National Guard from 1983-1988 and earned a Bachelor of Science in Biology at the University of Central Arkansas in 1991. He completed the requirements for his Medical Degree from the University of Arkansas for Medical Sciences at Little Rock, School of Medicine, and completed his internal medicine residency at St. Louis University. Specializing in cardiovascular disease, Dr. Kelley returned to UAMS and fulfilled a fellowship in general cardiology medicine. A year later, Dr. Kelley completed an interventional fellowship at the University of Alabama at Birmingham. Dr. Kelley was a partner with Southeastern Cardiovascular Consultants, LLC of Baton Rouge, Louisiana for 13 years and has served as president of the local American Heart Association Chapter. Dr. Kelley was recognized by Baton Rouge Business Report in the Class of 2007 Top Forty Under Forty. Dr. Kelley served as Chief of Cardiology at Baton Rouge General Hospital from 2007-2012, and in 2008, he and his wife, Danielle Kelley, co-founded Jump Start Your Heart, Inc., a non-profit organization providing free cardiovascular screenings to high school competitive athletes. Today, the father of Omni Kelley, Kaylin Johnson, and Raven Kelley, is a partner at Baton Rouge Cardiology Clinic and is actively involved in his community and his church, Greater King David Baptist Church. He currently serves on the Blue Cross Blue Shield Physician Advisory Committee, Our Lady of the Lake Regional Medical Center Advisory Board, American Heart Association Board of Directors, and Baton Rouge General Medical Center and Our Lady of the Lake Regional Medical Centers Credentials Committee. Dr. Kelley is a Board Certified Interventional Cardiologist and partner at Baton Rouge Cardiology Clinic and continues working to save lives, one student at a time, through his foundation, Jump Start Your Heart, Inc.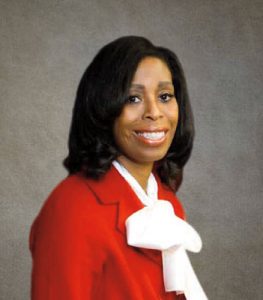 Danielle Kelley is a native of Little Rock, Arkansas where she earned her Bachelor of Science in Nursing from the University of Arkansas Medical Sciences in Little Rock. Recognized as an American Academy Family Nurse Practitioner for 20 years, her area of expertise focuses on public health, school-based clinics, private practice and hospital based family medical ambulatory clinics, college student health services specializing in women health and family planning. The devoted mother of Omni Kelley, Kaylin Johnson and Raven Kelley has resided in Baton Rouge, Louisiana since 2002. With an extreme passion for philanthropy and community service, Mrs. Kelley and her husband, Dr. Steven E. Kelley, founded Jump Start Your Heart, Inc in 2008. Since its inception, she has served as the Executive Director and worked to ensure the organization's mission and vision are the foundation for its growth and sustainability with ongoing fundraising, athlete screenings, and community awareness, including education on sudden cardiac death, heart disease, healthy lifestyles, exercise and exercise.
Today, Danielle Kelley continues to serve her community through Jump Start Your Heart, Inc. and the many organizations and charities she supports. Mrs. Kelley is a member of Greater King David Baptist Church Health Care Ministry and Children's Worship, American Heart Association Circle of Red, and La Capitale Chapter of The Links, Inc. in Baton Rouge. As a fifteen year member of Jack and Jill of America, Inc. Baton Rouge Chapter, she will transition into Jack and Jill Associates in 2019.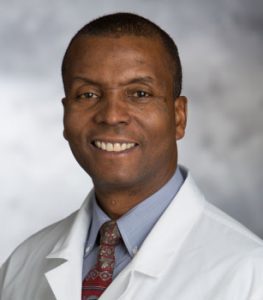 Born on April's Fools Day, 1959, in New Orleans, Louisiana, the first child of two educators Darryl Wayne was raised on his great grandparents' farm in Hammond, Louisiana. He attended Holy Ghost Catholic School and graduated as Class President from Hammond High School in 1977. His early involvement in multiple endeavors including sports, science, community and work activities created a desire for excellence culminating in graduation in 1981 from the United States Military Academy at West Point. As early as age 9 he expressed interest in Medicine. He graduated in 1985 from Drexel University /Hahnemann School of Medicine in Philadelphia,where he met his life partner, Lydia Sims. They were married the next year just after he finished Internship in General Surgery. He completed in 1992 Orthopaedic Surgery Residency at Brooke Army Medical Center, San Antonio, Texas where both children-Dawn and Robert- were born. His work in medicine has led to a fascinating series of opportunities. Dr. Peterson was selected as team physician for a World Cross Country championship(Nigeria), served as Chief of Orthopaedics at the largest military base in the world(Ft. Hood, Texas) and trained in 1997-1998 at one of only three places in the world where hand transplants were performed(University of Louisivlle Hand Program). Upon leaving the military in 1998 he opened private practice Hand and Orthopaedic Surgery in Baton Rouge, Louisiana. Believing in a strong sense of community and that opportunity knocks loudest when we are listening, he has been involved in multiple projects since leaving the Army. He began in 2000 a Summer Youth Orthopaedic Clerkship in an attempt to motivate others towards Medicine. Mentoring multiple area students, it produced several physicians and nationally recognized presentations. He and his wife are founding members of the core group which developed and opened the Greater Baton Rouge Surgical Hospital. This minority owned and operated hospital successfully performed thousands of procedures, employed over 100, and was the first hospital selected to receive in 2007 the National Medical Association's Scroll of Merit Award. It also won the Press Gainey National Outcome Driven Performance Award as Top Performer for inpatient satisfaction in both 2010 and 2011. Sadly, it closed in 2012. From December 2013 until May 2017 he practiced Hand and Microvascular Surgery in the Phoenix , Arizona area as a member of the Banner Health Network. He was glad relocate back to Texas (Bryan/College Station) joining in 2017 CHI/St. Joseph's Healthcare. Dr. Peterson has been active in both local and national organizations. He was a member of the Baton Rouge Area Foundation's Healthcare Committee , past President of the Saint Paul Catholic Church Community Outreach Foundation and founding board member of Jump Start Your Heart. He serves in the American Academy of Orthopaedic Surgery's Robert Gladden Society as Membership Director and is editor of its publication. He was selected to the Academy's Diversity Advisory Committee. He is a charter member of The National World War II/D-Day Museum and the US Army Historical Society. He spends his free time in pursuit of his hobby, photography, and with his family. He and his wife, Lydia Sims, have two children and a host of nieces, nephews, and Godchildren.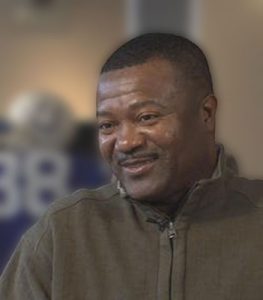 Eugene Daniel, Jr. was born on May 4, 1961. The Robert E. Lee High graduate played football and basketball and ran track. He was the MVP in the All Star game his senior season. He is a former professional American football cornerback who played 14 seasons, 1984-1997, in the National Football League (NFL) for the Indianapolis Colts and Baltimore Ravens. Mr. Daniel attended Louisiana State University and was drafted by the Indianapolis Colts in the 8th round of the 1984 NFL Draft. In 1985 Daniel, tied Albert Lewis of the Kansas City Chiefs for the AFC lead in interceptions, with 8. In 1995, Daniel recorded the longest interception return in Colts history, scoring on a 97-yard interception against the New York Jets. During his 12 years with the Indianapolis Colts, Daniel was a fan favorite and held many longevity records. Eugene Daniel helped train football players at Scotlandville High and McKinley High in Baton Rouge prior to joining Alcorn State University's staff as the Braves defensive backs coach.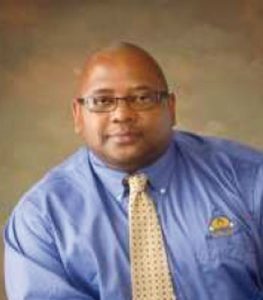 John W. Kelley, CFP, is the Chief Executive Officer of Financial Legacy Management, Inc., and the President/Chief Executive Officer of Kids Life & Money. After receiving a Bachelor of Science in Finance from the University of Arkansas, Little Rock in 1998, he attended the College for Financial Planning in Denver, Colorado. In 2003 he earned the Certified Financial Planner designation, and in 2004, he received his Financial Life Planning Certification.
Before becoming a team leader with Financial Legacy Management in 2006, he worked as a Planner/Portfolio Manager (1998-2005), Director of Client Services (2001-2005), and Chief Compliance Officer (2002-2005) for The Arkansas Financial Group.
Mr. Kelley's memberships and community outreach includes Financial Planning Association, 2000-2005; Keynote Speaker, USDA National Convention, 2003; Instructor, Community Resources Technicians, 2003-2005; Team Leader, Martin Luther King, Jr. King Team 2004; Instructor, Kids Life & Money, 2004-2015; Advisory Board Member, Consumer Credit Counseling, 2004-2006; Chair, Just For The Kids, 2005; Chair, College Link Committee at the Conway Chamber, 2005; Education Committee at the Conway Chamber, 2005-2008; Board of Directors, Bethlehem House Homeless Shelter, 2005-2006; Instructor, Money Smart FDIC Adult Financial Education Courses; Scholarship Committee Chair, The Appomattox Club, Inc., 2006-2016; Secretary, The Appomattox Club, Inc., 2007- 2016; Vice- President, Business Network International, 2006-2007; President, Business Network International, 2007-2008; President, Pine Street Community Development Center, Inc., 2009-2016; Board Member, Arkansas Community Foundation, 2010- 2015.;Treasurer, Life Long Learners, 2012; Faulkner County Leadership Institute, Class of 2012; Board Member, CAPCA, 2012; Finance Committee, CAPCA, 2012; Fiscal Committee, AOSN, 2012; and President/CEO, Academics First of Conway, Inc., 2016-present.